Reviews and Before-After Photos
We love to hear your stories and experiences! Send photos too!
Please visit the product page where you made your purchase to leave a review.
Product reviews and photos
I originally gave Rub 'n Restore 5 stars & rave reviews. This was before the coat of clear started taking off the color and a long process of troubleshooting, stripping, & reapplying ensued. Although I have had my challenges with the product, (though likely some it may have been my own fault... unintentionally of course,) the continual follow through, help, advice, suggestions and total professionalism of CC & Lesandre was top notch! Having been in customer service myself for many years, I well know and appreciate that "personal touch" and feeling valued as a client. These lovely ladies have "bent over backwards" to make things right, and their care, concern, and personal attention has been exemplary! Kudos to "Rub & Restore!" You have a lifetime loyal customer in me!
The couch is holding up well with regular use after 6 months. My husband found a very similar chair/ottoman, and we had enough dye left to create a matching set! This stuff is magic, though, definitely 5 stars - thank you!
Your product is amazing and so easy to apply! No one believes me when I tell them that it was simple to recolour my 25 year old sofa.
It looks amazing!!!! I'm STUNNED!!!!!!! It was, hands down, the most incredible experience I've had with any product ever. This stuff is life-changing! I am looking at every leather item in my house differently now! People are going to think I have 10 purses and shoes in different colors but it will only be that I took 20 minutes to dye my purse before I left LOL.

I can't wait to share the photos with you and my husband is going to do a review and my clients are going to freak.

I did it practically in the dark, late night in the garage in between 2 propane heaters in sub-zero weather. I couldn't even see the finished product well and was fully expecting to have to do more coats once the morning sun shined. No such issue...it's BEAUTIFUL!!!
I spoke with the daughter right before  Christmas. You were very helpful.   I ordered two large taupe colored dye as my couch seats 7. I covered every inch 2 coats. Absolutely beautiful! Looks brand new. I am very happy. I will order a small bottle for touch ups if needed. Otherwise  it's wearing very well.
I have before and after photos.  Am tech challenged
I am absolutely blown away!   Very rarely do I take the time to write reviews but I can't resist on this one.   I tried selling our old lazy boy because it was the wrong color for our new decor.   After that failed, I researched whether I could change the color and found your website.   I sent for samples and they came within days.   I then ordered the product, planning to work on the chair when I returned from vacation.   But it came in within a couple of days, and a project that I expected to work on for hours was completed in about 2 hours total. It turned out awesome!!
Great product I would recommend to all went from white to blue
Thank you! Great product! Just ordered more!
Purchased to cover a brown/burgundy to grey. I was confident after studying your website and pictures, but my family was doubtful. They are amazed with the finished product!   Feels and looks like it came this way from the factory. I HIGHLY recommend this stain.
Received my order today in the mail and immediately went to work redoing one of my leather sofas. I choose to use Slate to go with the new decor of my living room. The before picture of the "cappuccino" sofa is posted below and the after is posted in the comments. I still have to chalk paint the arms, but I LOVE your product! It was so easy to use and quick drying!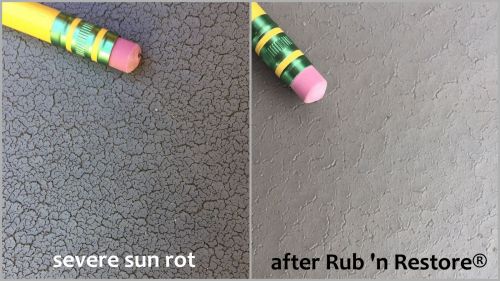 Color is just right, and the surface is much better, as you can see. The 16 oz. bottle of slate pigment gave me more than 3 full coats, after finishing the first coat of stone color. We are very happy with the results! Thank you.
Not bad for a free couch. Great product, great results.
Customer for life! What an amazing product! I used on a used lather la-z-boy I got cheap and wow! From an ugly fleshy color to your slate grey. Love this product! Thank you!
By far one the best products I've ever bought. Easy to follow direction and applying is simple. Took me about an hour.
Thank you for your great product!
You Products are amazing!!!! Very user friendly and the YouTube videos are what sold me. Both of these pieces were light beige before and now a beautiful crimson color.
Thought I would show you how happy we are with your product! TRANSFORMED old faded white leather livingroom set into a NEW set in time for a move!!!
Just beautiful just like you said 3 coats with glaze mix ,wish I was near you I would give you both a big hug,saved me the cost of new couch with no hard work took about 1 hour only had to do cushions match almost perfect thanks again
The old pictures don't show haw badly worn my chair was. My wife wanted to throw it away and get a new one. After my Rub n Restore treatment with the Midnight Blue and Prep Finish my wife said better than new. It has that old English men club look of a loving cared for antique.
the product worked great, my wife was very skeptical, she loved the end result
After- using midnight blue to restore this 15 year old chair.   It took about 2 hours, but it was super easy! I can't wait to do the couch tomorrow. Thank you!
I'm sending you ladies a testimonial because I cannot stop talking about your fabulous product! Rub and Restore converted this ugly old vintage leather sofa (that someone posted for free on Facebook and then tossed outside onto their driveway) into this absolutely gorgeous midnight blue mid century piece I'm excited to place in my living room. Just look at the difference -- talk about drab to divine! My friends and family can't believe the change and I've been telling them all about your company and the videos on Youtube. On top of your product actually doing what it promises to do, I really appreciated the personalized suggestions I received from you not long after I emailed your company with some questions. Now that's top-notch service! I can't wait for my next project -- converting a nice leather recliner from espresso brown to peacock blue (I'll be trying my hand at mixing colors this round). I've already ordered more Rub and Restore and I'm sure I'll be posting photos of the recliner soon. Thanks again for making such an awesome product and for all your help!
I did order the color match first, but decided to just order the mahogany color, received it today, applied per directions, fantastic transformation! So far, very pleased, hope it lasts. The sofa looks like new!
I just wanted to drop in and let you know that I finished my 1967 volkswagen with stunning results. I honestly thought I would have to replace the entire headliner/interior when i began the project. I chose marine white for the headliner, and red chili for the 2nd tone on the seats while documenting the whole process (although I did not take a lot of before photos because I still thought I was replacing everything). I'm a huge fan of your product and I'm glad I could support your family business 🙂
Just thought I would share a few before and after photos. Had mildew on my boat seats that would not come off so I used your marine white dye and turned out great! Thank you.
Here's some stark before and after pictures of my newly acquired, rather worn leather sofa and love seat set! 1st coat results!
Thank you for being so prompt, for helping me sort out which color, and for answering my questions.
I may have to do one more filler pass on it but it looks Soooo much better! I have been showing off before and after pics to some friend and family and they all agree with me that your product is Amazing! I think it's revolutionizing! It's going to change everything! 🙂
Hey your product is amazing!
Hello, thank you for sending me the clear prep and finish. The chair ate the color so fast, I can't imagine how hard it would be if the color was more saturated. I mixed it color rich at 75%/25%.  I applied 3 coats, Plus some touch up spaces. And used approximately 2/3 of the bottle. It turned out perfect. Super dark brown with a small hint of red during the day time. The first coat was horribly streaky because I applied it in strokes. I was curious to se how it absorbed and changed as it dried. Much closer to paint than stain. The second coat was rubbed, than dabbed. It looked fine to me, but my wife wanted it darker. The 3rd coat was only dabbed on. The leather was rougher to the touch but a little sanding softened it. Overall, I'm satisfied! Thank you.
WOW!!!!! I am completely impressed. This product was so easy to use. The chair looks like a completely different piece of furniture. Before I found Rub-N -Restore, I was going to sell it in a yard sale. Beyond happy with the results!!!!
I was skeptical that I could pull this off. I have two love seats that had several cracks in the vinyl and in need of new color. I had considered having them reupholstered but the cost is so high. I made the repairs with the Soft Filler then recolored them with the Walnut Dye. I finished up with the Clear Prep and Finish and I couldn't be happier with the results!
Before and after!! I love my new chair.
I received the Soft Filler and I think it's great.

I applied several very thin layers to the mesh substrate where the vinyl had cracked and flaked off and made sure there was good adhesion with the remaining vinyl fragments. I only removed a few small pieces that were peeling away. I allowed each layer to dry and very lightly scuffed the final coat with 600 to ensure it was smooth.   While I was tempted to try and texture the finish I was satisfied with the way it turned out and made a custom color dye to reasonably match the surrounding seat material.

I've attached before and after photos. The lighting wasn't great but I'm very pleased with the way it turned out and hope that the repair holds up to the wear it's going to see.

Thanks again for your advice and videos.   I give the product two thumbs up.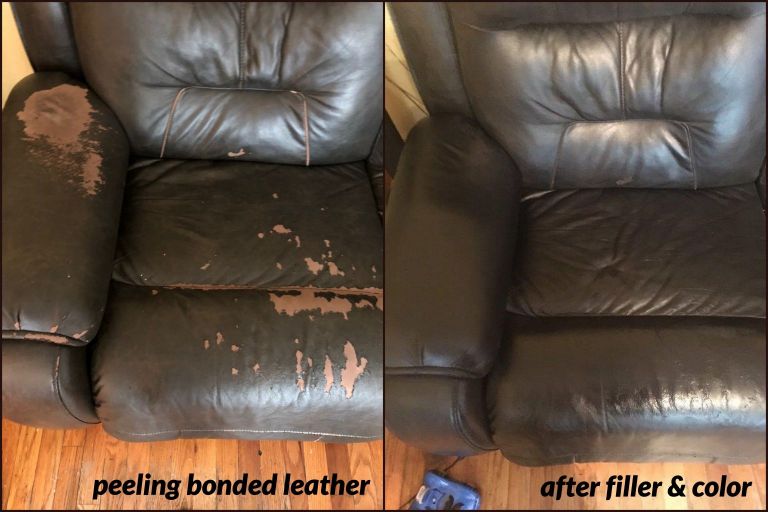 Thanks it came out really good need to reorder more filler.
Hi Thanks For your quick   response in sending products and advice. As promised I am sending before & after pics. Great service!!!
I used your products to restore my couch and loveseat, and they turned out beautifully!! At first I only ordered products to repair a ragged tear on the seat expecting that to go poorly. Instead, it patched up nicely so I ordered primer and dye in Ivory. I'm so amazed at how beautifully this turned out and so are my friends and family. Thank you.   
First pictures are original color that I hated how bright it was... everything worked perfect. Thank you. I love the new darker color!!  Thank you  so much. I couldn't be more happier!!
My chairs turned out awesome!!!! Thanks so much for taking time to talk with me and this wonderful product. I'm hoping to find more projects.
Just wanted to say thank you for a great product and a great result!   I've never done anything like this before and was a little hesitant to give it a try.   Your website is easy to use and guided me thru the process of getting the cleaner, color and shine coat that I needed.

It took me a few minutes to get the right hand motion figured out to get keep the "marbled" color appearance of the leather.   Once I did, the project went smoothly and turned out phenomenal.Thanks again (my girlfriend is ecstatic)!
What a fantastic product! We started out with 2 buttercup Natuzzi aniline sofas that had oil and other stains with sun damage but were still structurally sound. We first did them with your Cognac with a 50% glaze. We realized we wanted them to be darker brown and without the shine. So I ordered the Espresso and 3 coats later we are amazed how well they turned out. Thank you for a fantastic product, it couldn't have been easier to apply. You girls rock...
+3
Hi there! I just finished dyeing our couch and I'm so happy with how it turned out.
Just wanted to say thanks for making a great product.   It took some trial and error, but we love the way the couch looks and feels now.   The cushions even feel firmer.   Thanks a bunch!!
Here are some photos to show you that Rub 'n Restore works beautifully in New Zealand as well as in the USA! We are very happy with the results.

We used a 16oz and 8oz of cognac dye plus an 8oz of clear prep. We did 5 coats of dye, then a 50/50 with clear prep. It was still shinier than the original so we did a 6th coat of dye only to get the satin effect. There is still plenty of dye and clear prep left for any repairs in the future.The 20 year old dark green leather looks ok in photos but was rather tired close up as we brought up 3 kids who jumped all over it for years on end! It was also too dark for our current home decor. The Cognac looks fabulous and fits very well with our decor.

Many thanks for your helpful suggestions as well as the excellent product.
LOVE my "new" cognac leather sofa!
I really appreciated the instructional videos.

The cognac dye covered permanent ink, deep head sweat stains and unknown spills. I used the clear prep between coats, with the dye on some coats and alone for the final coat. I did this inside with pets all around, and the dye was pleasure to work with and made no mess while drying quickly.
My favorite comfy chair is allowed back in the living room after years of being banished to the basement thanks to Rubnrestore Cognac treatment!! Your leather "tonic" is amazing!

After going through your website information and videos I was ready to try it and I am SO impressed!

I ordered the desired color, which arrived SO quickly; prepared the chair, as directed; then I chose to pretreat with the Prep & Finish, which turned out to be REALLY helpful as the now pretty 'raw' leather didnt absorb the dye as quickly and I could 'move' it around easier. Finally I added some Prep&Finish to my dye to give the chair more of a satin finish and Voile!!   I am SO pleased with how easy the whole process was--took about 4hrs start to finish! And beyond thrilled with the finished product!!! THANK YOU LADIES!!
I'm somewhat cheap when it comes to furniture. With a baby and cat (and let be real, I'm really messy), I know our furniture will get a lot of wear and tear, so I take FREE furniture whenever I can. We were given a chair and loveseat in a red leather. It's not my style, so I decided to change it! YALL. I used  Rub 'n Restore, Inc.  Leather Dye and changed it to a beautiful Cognac color. I dyed both pieces of furniture THIS AFTERNOON. It's so easy and pretty much foolproof. I still need to buff and shine the nail heads, but c'mon, the difference is crazy.
I love your product! Check out my before and after. From red to cognac. Easy and quick!
Wow, just wow. Thanks for great, easy to use product.
I just wanted to send you some pics of the finished project. I love it! Thanks for all your help. I used your repair stuff to repair the cushion and it worked great. And used the cognac making a 50 50 glaze with tha clear and wiping a lot of it off after it was somewhat dry to get a distressed look.
Hi I just wanted to tell you how much I absolutely love your product for how great it works but also that I especially love how easy and fool proof it is. We purchased this Italian leather sofa and love seat for 250$ with the intention of using the Rub N Restore conditioner and sealer. The couch and love seat look like new! They came out way better than I could have ever imagined!! It was so dry but it only took 2 coats of product to bring it back to life! Thank you for such an amazing product!

There were no tears at all. There were a couple dirty spots on the cushions but a mixture of rubbing alcohol and water took the small spots right up. It was just incredibly dried out from sitting in storage. Out of curiosity I checked the tag and this was made in Italy. I think this is the best 250$ I have spent in my life.
I attached an image of our blue sofa's, which are now brown.   Your choice of color was perfect.   It matches our pre-existing recliner chairs.
I finished the chair and footstool. Indeed it was easier than I anticipated. Your instructions, help and assurances made all the difference. The pictures say it all. Thanks for your product and support throughout. We are very happy.
Thank you! This was so easy to use, and my old, worn, about to be donated furniture looks amazing!!! Time to order more for the sofa and loveseat!
Project finished! I fixed the holes and applied dye everywhere, except on the sides due to the two-tone texture of the original leather. Thank you so much for your help!
THANK YOU for selling me the small bottle of Black Dye.   You may recall, I'm changing the piping color on my motorcycle seat from Red to Black since my Motorcycle is Blue.   I attached a photo of my initial test....The match is exceptional!   You ladies ROCK!
Attached are before and after photos of my leather couch that is 32 years old. Its a great couch and very comfortable but the 1980's teal color had to go. Your product worked perfectly. I received it  on Monday  and after 4 coats, I got the results I wanted. I rarely take the time to give this kind of feedback, but I was so happy with the results I had to write. I really liked having the flexibility of being able to adjust the sheen using the gloss sealer. I will spread the word!
The before picture was after I spent $300 on an interior car detail. Not clean.  Your product was just what was needed to freshen my seats up!  I made a mistake and bought the car at night. I wasn't able to get a good look at the interior. I swear an old mechanic drove it. The grease was everywhere. It's been quite a deep-spring-cleaning project. Did the whole interior. Mitsubishi Montero.
I wanted to reach out to you and thank you for giving my couch another life. In just 2 hours, my sectional was transformed from a dirty, old, warn out, ready to be thrown out , into the condition it was in when we first bought it 10 years ago. Three energetic kids later, and our beige couch was looking very sad and disgusting. We recently moved into a new house. It was looking so old in the middle of a freshly painted living room. But with the move, we could not afford to replace it, at the moment. I figured I had nothing to loose. I was very skeptical about this purchase. I saw your videos and read the reviews, and everything sounded magical. I was having a hard time believing it was that simple. It really was. My couch looks so good, we will keep it for at least another 10 years. My husband was so impressed, he will be using the remaining product for his leather car seats. That means a lot, coming from him. He would never use anything on his beloved car, that he did not think was great.   We have gone through so many leather cleaners, at least to clean out the dirt on the couch. And could not get it any where near the cleanliness the Flite got us within minutes.   Beige dye matched perfectly with the color of the sectional. I did request the free samples. I am so glad I did not skip that step. I was ready to order Ivory and Clean and Clear. But when the samples came, Beige without the coat was what I needed.   The dye is also so forgiving. No streaks, do not need to be super careful how to apply it to the leather. It just blends in perfectly. Thank you so much for transforming our sectional into a brand new one.
I restore vintage chairs now! Thanks, Rub 'n Restore!
Great, easy to use and easy instructions.
Product exceeded expectations. Was easy to apply and looks fantastic. Would order again!
I have tried everything to clean car, especially steering wheel. It looks brand new. You won't believe the results.

I will say, I was stingy with how much I was using for each cleaning. I found myself using the same amount when all was said and done and less work scrubbing when using fair amount.
I am absolutely dumbfounded by the 'fool proof' nature of Rub N Restore. After the initial application, I had concerns, given the pillowy nature of the seat backs and the pleated nooks and crannies around the stitching, this product wouldn't display an even tone. However, after the second application, it was easy to see the color blending more evenly. The pictures just don't do justice to how amazing this product is. Rub N Restore is clearly the "sliced bread" of do-it-yourself monochromatic leather dyeing. I have to tell you that I've really appreciated your level of customer service, and I've recommended you to everyone I've shown the sectional to. I think you have a great product, but more importantly, I think you have outstanding customer service. I'm glad there's companies like yours doing business successfully in today's climate. Keep up the great work 🙂
It really works well! I bought 8oz bottle and it was enough to cover a whole couch. The instructions were so clear, it took 5 layers and about 3 hours with drying time to do the job. It dries fast and easy to work with. Stone grey covered the dark brown perfectly. Now I have my favorite color leather couch without buying a new one. I loved the product so much, I ordered more. A few more projects to do. Very pleased! Thank you!
I highly recommend this product for restoring worn out faded leather furniture. The process is time consuming but so worth the end results. I chose to do color analysis and the color was a perfect match to the original color.
Worked well with the help from the youtube videos. Theres is some technique involved to make it perfect.The cap on the dye leaked when you tipped it to pour, so I made a cardboard washer to seal it. Then it worked flawlessly.
15 year old faux leather couch looks like new
It just works! I used the Walnut Vinyl & Leather Dye to recolor a area on my couch. We followed the instructed and it worked perfectly. Two weeks later it is still looking great.
Rub N Restore has really saved the day. For our leather sofas age had caused the color to start to fade, and then two over boisterous young cats have added far too much character in the shape of puncture and cuts in the leather. Rub N Restore Dye and Finisher has restored them to the point where they will be with us for many years to come, and consequently, my wife and "The Boys" are pleased and relieved in equal measure. Excellent product, very happy.
I dyed my sectional from beige to Ash gray. I was going to use the primer and sealer as a final coat. But on the second part of my sectional, i had to apply it as a primer to get the dye to cover better. And it worked.
I have a cream beige sectional. Decided to dye it Ash (gray). It took 3 days, patience, and alot of work. But so worth it. I is almost perfect.
The product took more that I figured to cover a dark brown sofa.but looks great.
I had a pair of ivory leather club chairs that had, embarrassingly, become covered in dog grime. A good cleaning and a few coats of the Rub n Restore dye completely transformed the chairs. They look brand new and I was able to lighten the color to be more contemporary. I would not hesitate to recommend this product to anyone wishing to restore or redesign their leather furniture.
This product cleaned years of dog grime from a pair of leather club chairs and allowed me to dye them properly.
This worked like a charm!
We've already gone through one bottle of this and we're on our second. It makes chairs look like new!
Ar first I was a bit skeptical as to whether the dye actually worked as well and was as easy to apply as the videos show. To my delight and amazement it was incredibly easy to apply and the difference before and after of my vinyl recliners was remarkable! They are now a beautiful deep, rich turquoise from the former ugly, boring tan and they look brand new! My sister even asked when she visited, "when did these new recliners arrive?" I told her we had then all along. Then she said, "you had them reupholstered?, I'll bet that cost a fortune!" She was amazed and is going to tell her friends about Rub 'N Restore. I highly recommend this product and the wonderful,kind ladies who run the company!
This is the most amazing product!!! Our leather sofa and loveseat were in desperate need of help. We were actually going to throw it away and get new furniture but RubnRestore really brought the furniture back to life! I would HIGHLY recommend this product.
I received a leather couch from my neighbor when she moved . I noticed it had some minor cat scratches and that the dye had worn off in several places. The ivory Rub n Restore color was a near perfect match! I gave the entire couch two coats and the damaged areas three coats. My 'new' couch is gorgeous!
Have ordered twice after my girlfriend told me about this. Easy to use, dries super fast, amazing results. So fun!!! Thank you!!
This is the second time I have ordered leather dye from here (I also used the turquoise). Amazing product, easy to use, awesome results!!!!!
GREAT PRODUCT AND EASY TO USE INSTRUCCIONES. WORKS PERFECT!
I think this product is great. Does a wonderful job. Didn't understand why the furniture dealer couldn't do this. So much for extended warranties! And Bobs furniture! I followed the directions and my couch turned out like new.. Good match also, so worth the money!
Fantastic product and customer service . Used on wakeboard boat fading rear sun pad panels.
Saved me hundreds and looks great!
When it dried the filler compound is peeling making it difficult to sand and finish as directed. There seems to be no way to remove and start over.
I used this on couch and console and worked perfectly..
Frankly speaking I didn't expect that that matching would come out 100%. Credit goes to RubnRestore. I am a satisfied customer and would highly recommend sending in a sample for color analysis if you are not sure.
I purchased this Rub & Restore to dye an existing leather coffee table to match my new sofa set. The entire process took less than 30 minutes to complete. It dried to the touch in less than 30 minutes and cured within a day or two. Cece (mom) was really nice and helpful—She put my order on hold in order to send me some color swatches. Turns out, I would have received a color that was too light to match my sofa. So thanks a bunch to Cece for taking the time to help.
I found a Leather Couch out to the curb in the wee hours on black Friday morning in 2013. My husband thought I was crazy for bringing it home because it was in need of some repairs and a good scrubbing. We have young kiddos and leather was ideal with clean up moving forward so I lugged the bad girl home. However a rusty red leather couch was not my color of choice. We have managed to live with big red for years because of it's perfect size + super comfy-ness. (And also lets face it, A FREE LEATHER COUCH!) Some how this year I stumbled across this product and I was blown away by the reviews and photos. Long story short, this once rejected couch is now the piece I always wanted to buy but could not afford. Thanks for the great videos on repair and application. Learned a lot and love my free couch even more!
I also decided to Rub n' Restore our family hand-me-down recliners. They look so refreshed! I have been sharing this product with many family and friends.

This stuff is great and it goes a long way. I like how you can mix it with the color to control the amount of shine on your leather. I was getting tired of my couch and chairs, but I love the style of my furniture so when I found this, let's just say I was excited. Pretty cool products!
Our 15 year old couch was worn. Your products worked perfectly! Leather looks new and flawless. Thank you.
There are a couple products out there that appeared to do the same thing as Run 'N Restore so I did my homework. I went with this product as the reviews were AMAZING. Just about every one ranted and raved about how easy and how good the product worked, so I decided I'd give it a go. I ordered the peppercorn as the color chart and pics made it look like it was one step from black. That was not the case. It is definitely a lighter blue gray color. After I did two coats and decided the color wouldn't match the living room (nothing wrong with the actual color, it looked good) I decided to go with black. BUMMER as I had to order and pay for another bottle knowing the first would go to waste but that's life. I wish I could have returned the unused portion for a partial credit. Anyway, I got the black and after 5 coats it turned out GREAT. Exactly what I was looking for. Not a jet black but more like a dark charcoal. NICE color. I am more than satisfied. Followed the instructions and just used an ordinary sponge and that was all it took. I would HIGHLY recommend this product. I was ready to buy a new couch and love seat and don't need to do that now. I purchased the larger bottle and still have a quarter bottle left after doing 5 coats on a full size couch and love seat to include the back side. The product is really amazing. Hard to believe these are the same couch and love seat. Buy it. You won't be disappointed.
I had high hopes for this product. I was going to dye several chiropractic tables. I tested the product by dyeing 2 vinyl bolsters. It went on easy and covered well. After 2 days of drying time I tested the adhesion by rubbing it with a wet paper towel and also Clorox wipes. With a little rubbing both removed the dye. I certainly cant use it on tables that people will be lying on. Disappointed for sure.
I recently purchased a nice used leather chair and ottoman, but wasn't crazy about the color. While pondering my dilemma, dye came to mind. I happen to be an artist, but never worked with dye before. I did a little research and found your product. Your website was user-friendly, I liked you story, and I especially liked that your product was non-toxic and water-based! So I went for it and was pleasantly surprised at the results. Your product made it so easy to do. I posted pics on FB and several peeps asked about how I did it. I referred them to you. Thank you Rub n' Restore, I know I will use your product again for future projects 🙂