Customer Reviews and Before-After Photos
We aren't sold at Amazon, Walmart, Home Depot, Lowe's or Sears, because our products come with personalized customer support! See how pleased others have been, and start your project evaluation.
Product reviews and photos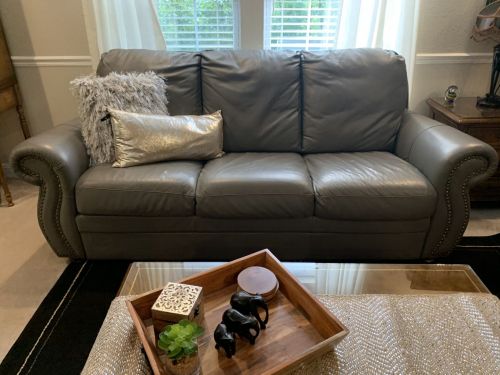 +4
Here are some before and after photos. Thanks for the prompt responses to emails and for all the posted videos on how to use the product. I was so happy with my results. I have told everyone about it.
Instead of replacing 4 cream coloured leather recliner chairs, with the Rub'n Restore leather dye, I was able to fix the stained areas. For $70 I was able to save $8,000.
Thank you!
Got this for a couch to re-dye from dark brown to white! Worked amazingly despite my initial expectation to disappointingly say "let's give it a shot!" Now a year after now the white couch is still shining with solid color! Would definitely recommend and now buying a camel dye for my car's seat.

Attached are the photos after several clear coats only were applied to a tired,  but good condition leather. Great product, easy update.
We are in the business of restoration of structures in historical districts and preservation of furniture and artifacts. Current projects include structures in Ft Worth Texas and Taos New Mexico. Your products have proven to be versatile performers and superior products, and we saved a few hundred dollars for reupholstering with new leather on these two chairs. The end result was better than new leather, inasmuch as the surface condition was renewed while retaining much of the well earned, period appropriate character of the old leather.
Warning: I'm going to sound like an infomercial! But, WOW! Look at the difference!
After some water damage to one of our leather couch cushions I was ready to get rid of the set. Then I found Rub 'n Restore.. I was super skeptical, but thought it was worth a shot. OH MY GOSH it was so easy and looks great! AND it only took about a half hour (most of that was waiting to be sure it was dry between layers). A huge shout-out to Rub 'n Restore, Inc. for walking me through this process, helping select the right colors (a mixture of Mahogany and Walnut) and convincing me I could do this! Seriously amazing! I'm so thrilled! Not bad for a Monday morning!
Our white, fine leather sofa was (I thought) beyond saving. As a last ditch effort we tried Rub N Restore.
It is totally white again, and the feel is not that different from the original surface. We are amazed! I have a before and after photo - totally impressed and very happy!!!!

THIS PRODUCT DOES WHAT IT CLAIMS!!! WELL WORTH THE MONEY!!!
Best money I have spent on restoring my car.
The result is amazing.
Here are my before and after pictures for Cognac 🙂 Love this product!
Friends tell me this is a $2000 couch. Your kit makes it nearly new again.

You are simply amazing. Your videos are well thought out and very inspiring. Hated to see you take out a knife and cut clean leather. Then astounded when I saw how you repaired it. Yes, this can be done by mere mortals.

One needs to watch the videos. Take notes. See what works. Take more notes. Watch more videos by Lesandre. For this, I got a sense of what to do as I went along. It's DIY!!! Yet. Lesandre is there NICELY to comment on emails. Couchman  / Client for Life!! - you are so nice to give pointers. Couldn't have done this without you!!
+3
Attached are the pictures from my couch.  It took me a couple of weeks and it came out OK....Not perfect as it was so bad I really should have had to tops of the cushions replaced. I would give it 4 stars, as I did not find it very sandable. Thanks
Took a chance buying some used, high end magenta swivel chairs based on your videos. Super happy—thank you!!
I did experience a bit of anxiety because I initially wiped off parts of prior coats each time I tried to add another. I started to worry i didn't clean it enough, etc (but it's been a month or so of heavy use and it's wearing great so ?‍♀️?). It was completely dry so wasn't that. In retrospect I think maybe my sponge was too wet—and then not wet enough, LOL. Anyway i switched to pouncing the sponge which worked great AND I found that allowed me to add a bit of... I dunno, subtle variegation or dimension to the color/finish. Happy accident since I think it looks better than having it just one completely even color anyway.
Your products really do the job!  My leather sofa repair came out better than I expected.
After watching the video on how to restore a spa cover, I wanted to see if it really would work on my vinyl cover. I am very happy on how it really made it look new again.
I am restoring the leather seats in an old Corvette and the filler product you folks provide is absolutely wonderful and is so easy to work with.
The product is very expensive for the amount you receive. Also was not informed that duties and customs are not included when shipped to canada. I purchased the larger container of the compound. There was not enough to repair 4 dining chair seat cushions. All showing wear on the leather. I had enough for only 2 of the seat cushions. I am using a leather paint to change the colour. After painting the chairs the wearing was still noticeable. In the end I went to home depot. Bought paintable caulking, smoothed out the wearing parts painted, sanded them painted again. The chairs look great and only paid $10 for the caulking as opposed to the Rub n Restore order of 1. Scraping tool, 2. Patch kit and 3. Compound. Which cost me $89 with US exchange, then another $37.80 in COD with arrival of the product.
Excellent support as well as great product
I purchased Flite, Mahogany Dye and Clear Prep Finish. My sofa sectional and rocking chair had wear spots on the seats and scratches from our dogs.
Boy, I am sold! I was surprised at how easy your products really are to use. Before I made my purchase, I watched your how-to videos, which gave me confidence the Rub 'N Restore products were what I needed for my furniture. I was a little worried the Mahogany Dye was going to have to much red in it, but once it dried it was almost a perfect match. I put Clear Prep Finish on and it blended beautifully. My furniture almost looks like new. Thank you for bringing us products and giving us instructions that are easy enough for the non talented, like myself, to use.
WOW, Amazing, Unbelievable only a few adjectives to describe how great this leather sofa turned out.
A perfect custom color match and an easy two step process thanks to your step by step video. My husband and I are thrilled. I am so happy I found your company on the internet. Much success to a great mother/daughter team.
My Silverado seats were still filthy after cleaning with lacquer thinner, a toothbrush and Flite. Rubnrestore did the rest.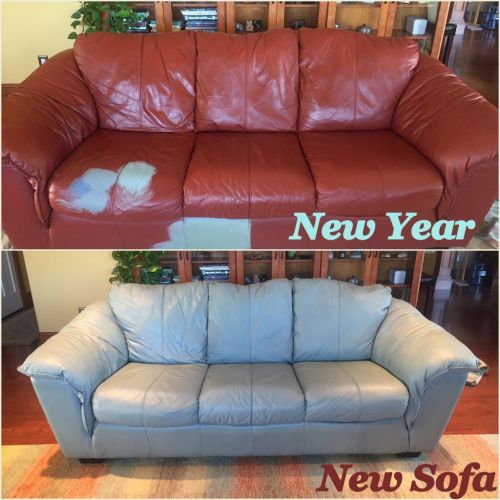 We got this couch for $100. Sent a sample of the area rug for an example of a blue-grey color. The red leather covered in two coats. The vinyl back and sides took three or four in some places.
Sofa looks absolutely gorgeous.  Sea Foam green needs to make it from being a custom to a Standard color.   LOL

Basically, what I did was use the Forest Green as the foundation as you instructed.   I then used the custom Sea Foam Green in a circular motion with the sponge.   Then as a final step I mixed the Foam Green with the Forest Green to give it a faded jean type of look. In the end the sofa looks Green sometimes, Robins Blue other times, and a mix of both depending on the time of the day.    Bottom line it looks like an expensive leather sofa.

Oh, and the process took about 8 hours from beginning to end.   Waiting 72 hours before applying the sealer/conditioner.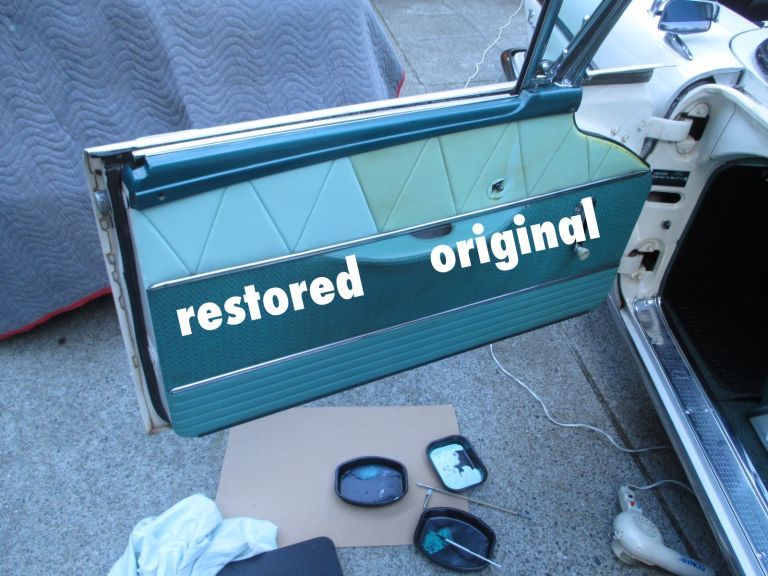 I just wanted to send along a photo of my 1958 Edsel Pacer interior panel.   It is showing the before and after of the results of your product Rub n' Restore.   The glue that was used on these cars 60 years ago had a tendency to cause severe staining to the light colored vinyl.   Your excellent color matching to the original color and product of Rub n' Restore has brought back the original color to perfection.   Because the stitching is dark green, I decided to use a fine artist pin stripe liner brush to color in the green threads as needed to finish.   I used the product sparingly and after three coats of the Rub n' Restore you can see the before and after.   I want to thank you both for an excellent, easy to use product.   My interior side panels are going to be perfect!
I have attached before and after pictures of my Suburban car seat restoration. I think it turned out great! I used your custom dye (1997 Chevy Suburban C 1500 Taupe) and finished with a 1:1 mixture of dye and Clear Prep and Finish Conditioner for a satin finish. The leather filler compound did a good job of filling large defects and cracks. I am very pleased with the result.
Thank you so much for your help I am excited and very happy with the results of your dye. I could not believe how great of a match you guys came up with for my Kiwi color couch. The dye went on easy, simple and the couch looks as good as new. Attached is a picture, I am still in awe of how beautiful it turned out. Really want to thank you very much for your help, product and advice.
Hi! I used your product last year for my little tufted accent chair. As you can see, it turned out great!!
Just wanted you to know how well the Rub 'n Restore process went.

I received your custom mixed color which was spot-on perfect for our old leather captains chairs.

I watched videos and followed the enclosed directions. It was scary and I was never sure if my sponge was the right dampness, or if I was really doing the process correctly.

But, your product was easy to use and very forgiving and the result is amazing. Such a difference!

Thanks for your help and for supplying such great cleaning and dying products.

Just wanted you to know that I have finished my captain chair renewal project with your products.

The instructions were clear, the dye and cleaner superb, and the process amazingly easy.

You made a custom color for me that matched the old leather perfectly. Thank you, thank you!
Lesandre, here are before and after pic of my recliner. Thanks for all your help.
I received the dye and it looks great! Thank you so much!
Your products are awesome!  Before and after!
My Stingray boat seats were solid white before. I am getting so many compliments and everybody is wanting to know what I used. So I keep telling everybody about rub and restore. Thank you very much! I do have the clear and I have been using that in between coats and as a final coat.
A great transformaton, even 3.5 years later. Thanks for an excellent product!
I am so immensely and thoroughly happy with your product! I rank this product a 100 on a scale of 1 -10!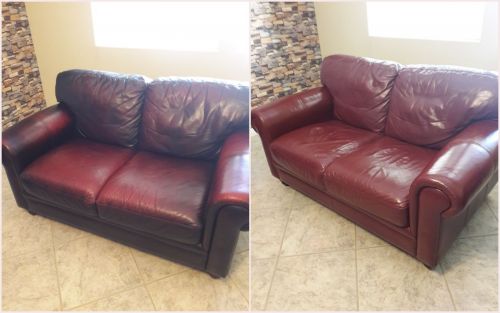 Mix of rust and wine. Looks beautiful. Great product. Thank you. Everyone loves the color brings, can't wait to see rust color on chair.
Anyone interested in getting rid of UGLY marks on your leather anything? I was!! My short haircut has worn this ugly mark on one of my favorite and most comfortable leather recliners. I called around and professionals wanted $200 and up to repair. I found Rub N Restore on YouTube. Well, $45 later TAKE A LOOK!! The company was great, unbelievably helpful, answered all of my questions, and I bought enough stain for many many more applications, if necessary. IT WAS FUN TOO!! Only took 10 minutes.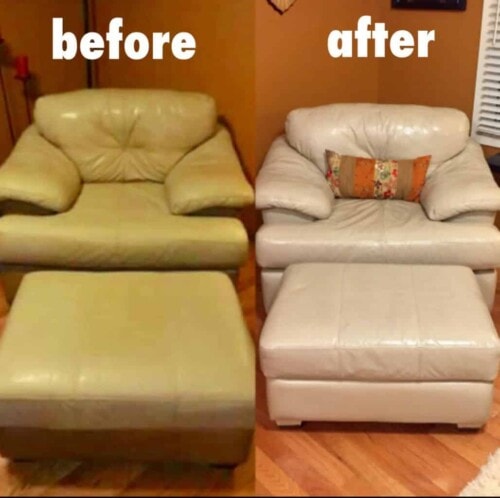 It took me all afternoon and part of the evening, but I'm thrilled with the results!! Thank you so much!!  I put these pictures on Facebook and have gotten lots of good comments!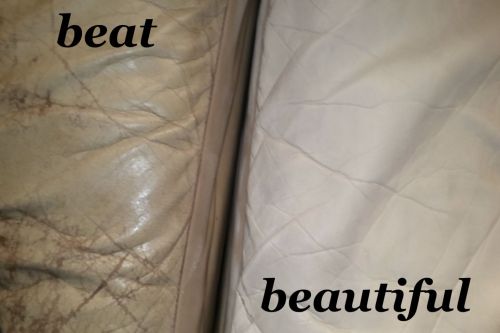 Thanks again for your products and your help!!! It's fun, too!!!  Now I want to buy old furniture and restore it!!  If i do...I know where to get my supplies!!  Thanks again!
Amen and kudos to all the testimonials I have read above! My own review is here as well but I had to add my own feedback to what has been posted here. My own experience has been similarly positive and amazing. However I did have a few issues and challenges with my own particular experience. But CC & Lesandre went the extra mile and were constantly there for me to help me get the final results I wanted. Where do you find such phenomenal customer service? It doesn't stop with the initial sale, it continues long after! Thank you ladies!
Ok, this probably isn't your taste but I HAD to send in my before and after photos. I have all of my friends and family freaking out about your products, and I bragged about how easy it was. I can't wait to do more!! Check out the before and afters shots. The couch was in really rough shape, especially the cushions, and now you can barely tell!!! Your espresso was a little lighter than the couch was prior but every inch was redone and sealed. I used red chili on the bottom cushions. Love your product and thank you so much for being so helpful!!!! You will hear from me again!!!
Thanks for saving me $6K on a vinyl awning for my storefront.
I can not thank you enough for all your help.   This was easier than I could have imagined.   I did the bench first (in the garage) to get comfortable with the application and then did the chair where it sits in the living room. The bench color was equal parts Cherrywood, Rust, Cognac, Walnut. The color for the chair (equal parts Cherrywood, Mahogany, Wine), where I only did the seat cushion, matched EXACTLY as you can see (I think the apparent color differences in the chair photos are due to the lighting since I only did the seat). Many thanks again.
Thanks to CC's color analysis, the eggplant/wine color combo worked perfect for my couch. My worn couch is looking new again, you have saved me hundreds of dollars. Thank you!
A mix of the Forest and Cognac (thanks to the personal help from CC) produced the exact green I was looking for. Not only did this product transform a teal leather into a NEW chair, it took away the scars of years of use. The videos and personal phone help gave me the confidence to do this. I am a retired decorative painter, and went into this project with a definite color and professional results in mind. I received both and will use this product on another leather chair I have at our summer home. Thank you, Rub 'n Restore–this is an amazing product.
I sent a sample of my sofa to Rub 'n Restore. They analyzed it for free and recommended a 2:1 ratio of Wine and Black rather than paying the extra fee for a custom color. Started the restoration of our sofa on the weekend. I can't believe how it came out. It looks brand new! Glad I found Rub 'n Restore. Great product.
I originally gave Rub 'n Restore 5 stars & rave reviews. This was before the coat of clear started taking off the color and a long process of troubleshooting, stripping, & reapplying ensued. Although I have had my challenges with the product, (though likely some it may have been my own fault... unintentionally of course,) the continual follow through, help, advice, suggestions and total professionalism of CC & Lesandre was top notch! Having been in customer service myself for many years, I well know and appreciate that "personal touch" and feeling valued as a client. These lovely ladies have "bent over backwards" to make things right, and their care, concern, and personal attention has been exemplary! Kudos to "Rub & Restore!" You have a lifetime loyal customer in me!
The couch is holding up well with regular use after 6 months. My husband found a very similar chair/ottoman, and we had enough dye left to create a matching set! This stuff is magic, though, definitely 5 stars - thank you!
Your product is amazing and so easy to apply! No one believes me when I tell them that it was simple to recolour my 25 year old sofa.
It looks amazing!!!! I'm STUNNED!!!!!!! It was, hands down, the most incredible experience I've had with any product ever. This stuff is life-changing! I am looking at every leather item in my house differently now! People are going to think I have 10 purses and shoes in different colors but it will only be that I took 20 minutes to dye my purse before I left LOL.

I can't wait to share the photos with you and my husband is going to do a review and my clients are going to freak.

I did it practically in the dark, late night in the garage in between 2 propane heaters in sub-zero weather. I couldn't even see the finished product well and was fully expecting to have to do more coats once the morning sun shined. No such issue...it's BEAUTIFUL!!!
I spoke with the daughter right before  Christmas. You were very helpful.   I ordered two large taupe colored dye as my couch seats 7. I covered every inch 2 coats. Absolutely beautiful! Looks brand new. I am very happy. I will order a small bottle for touch ups if needed. Otherwise  it's wearing very well.
I have before and after photos.  Am tech challenged
I am absolutely blown away!   Very rarely do I take the time to write reviews but I can't resist on this one.   I tried selling our old lazy boy because it was the wrong color for our new decor.   After that failed, I researched whether I could change the color and found your website.   I sent for samples and they came within days.   I then ordered the product, planning to work on the chair when I returned from vacation.   But it came in within a couple of days, and a project that I expected to work on for hours was completed in about 2 hours total. It turned out awesome!!
Great product I would recommend to all went from white to blue
Thank you! Great product! Just ordered more!
Purchased to cover a brown/burgundy to grey. I was confident after studying your website and pictures, but my family was doubtful. They are amazed with the finished product!   Feels and looks like it came this way from the factory. I HIGHLY recommend this stain.
Received my order today in the mail and immediately went to work redoing one of my leather sofas. I choose to use Slate to go with the new decor of my living room. The before picture of the "cappuccino" sofa is posted below and the after is posted in the comments. I still have to chalk paint the arms, but I LOVE your product! It was so easy to use and quick drying!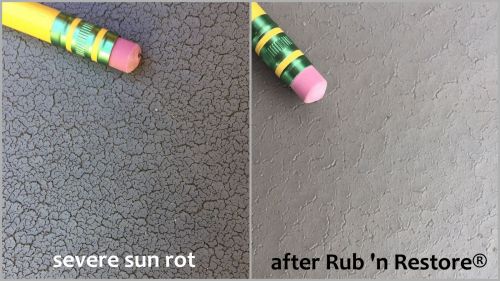 Color is just right, and the surface is much better, as you can see. The 16 oz. bottle of slate pigment gave me more than 3 full coats, after finishing the first coat of stone color. We are very happy with the results! Thank you.
Not bad for a free couch. Great product, great results.
Customer for life! What an amazing product! I used on a used lather la-z-boy I got cheap and wow! From an ugly fleshy color to your slate grey. Love this product! Thank you!
By far one the best products I've ever bought. Easy to follow direction and applying is simple. Took me about an hour.
Thank you for your great product!
You Products are amazing!!!! Very user friendly and the YouTube videos are what sold me. Both of these pieces were light beige before and now a beautiful crimson color.
Thought I would show you how happy we are with your product! TRANSFORMED old faded white leather livingroom set into a NEW set in time for a move!!!
Just beautiful just like you said 3 coats with glaze mix ,wish I was near you I would give you both a big hug,saved me the cost of new couch with no hard work took about 1 hour only had to do cushions match almost perfect thanks again
The old pictures don't show haw badly worn my chair was. My wife wanted to throw it away and get a new one. After my Rub n Restore treatment with the Midnight Blue and Prep Finish my wife said better than new. It has that old English men club look of a loving cared for antique.
the product worked great, my wife was very skeptical, she loved the end result
After- using midnight blue to restore this 15 year old chair.   It took about 2 hours, but it was super easy! I can't wait to do the couch tomorrow. Thank you!
I'm sending you ladies a testimonial because I cannot stop talking about your fabulous product! Rub and Restore converted this ugly old vintage leather sofa (that someone posted for free on Facebook and then tossed outside onto their driveway) into this absolutely gorgeous midnight blue mid century piece I'm excited to place in my living room. Just look at the difference -- talk about drab to divine! My friends and family can't believe the change and I've been telling them all about your company and the videos on Youtube. On top of your product actually doing what it promises to do, I really appreciated the personalized suggestions I received from you not long after I emailed your company with some questions. Now that's top-notch service! I can't wait for my next project -- converting a nice leather recliner from espresso brown to peacock blue (I'll be trying my hand at mixing colors this round). I've already ordered more Rub and Restore and I'm sure I'll be posting photos of the recliner soon. Thanks again for making such an awesome product and for all your help!
I did order the color match first, but decided to just order the mahogany color, received it today, applied per directions, fantastic transformation! So far, very pleased, hope it lasts. The sofa looks like new!
I just wanted to drop in and let you know that I finished my 1967 volkswagen with stunning results. I honestly thought I would have to replace the entire headliner/interior when i began the project. I chose marine white for the headliner, and red chili for the 2nd tone on the seats while documenting the whole process (although I did not take a lot of before photos because I still thought I was replacing everything). I'm a huge fan of your product and I'm glad I could support your family business 🙂
Just thought I would share a few before and after photos. Had mildew on my boat seats that would not come off so I used your marine white dye and turned out great! Thank you.
Here's some stark before and after pictures of my newly acquired, rather worn leather sofa and love seat set! 1st coat results!
Thank you for being so prompt, for helping me sort out which color, and for answering my questions.
I may have to do one more filler pass on it but it looks Soooo much better! I have been showing off before and after pics to some friend and family and they all agree with me that your product is Amazing! I think it's revolutionizing! It's going to change everything! 🙂
Hey your product is amazing!
Hello, thank you for sending me the clear prep and finish. The chair ate the color so fast, I can't imagine how hard it would be if the color was more saturated. I mixed it color rich at 75%/25%.  I applied 3 coats, Plus some touch up spaces. And used approximately 2/3 of the bottle. It turned out perfect. Super dark brown with a small hint of red during the day time. The first coat was horribly streaky because I applied it in strokes. I was curious to se how it absorbed and changed as it dried. Much closer to paint than stain. The second coat was rubbed, than dabbed. It looked fine to me, but my wife wanted it darker. The 3rd coat was only dabbed on. The leather was rougher to the touch but a little sanding softened it. Overall, I'm satisfied! Thank you.
WOW!!!!! I am completely impressed. This product was so easy to use. The chair looks like a completely different piece of furniture. Before I found Rub-N -Restore, I was going to sell it in a yard sale. Beyond happy with the results!!!!
I was skeptical that I could pull this off. I have two love seats that had several cracks in the vinyl and in need of new color. I had considered having them reupholstered but the cost is so high. I made the repairs with the Soft Filler then recolored them with the Walnut Dye. I finished up with the Clear Prep and Finish and I couldn't be happier with the results!
Before and after!! I love my new chair.
I received the Soft Filler and I think it's great.

I applied several very thin layers to the mesh substrate where the vinyl had cracked and flaked off and made sure there was good adhesion with the remaining vinyl fragments. I only removed a few small pieces that were peeling away. I allowed each layer to dry and very lightly scuffed the final coat with 600 to ensure it was smooth.   While I was tempted to try and texture the finish I was satisfied with the way it turned out and made a custom color dye to reasonably match the surrounding seat material.

I've attached before and after photos. The lighting wasn't great but I'm very pleased with the way it turned out and hope that the repair holds up to the wear it's going to see.

Thanks again for your advice and videos.   I give the product two thumbs up.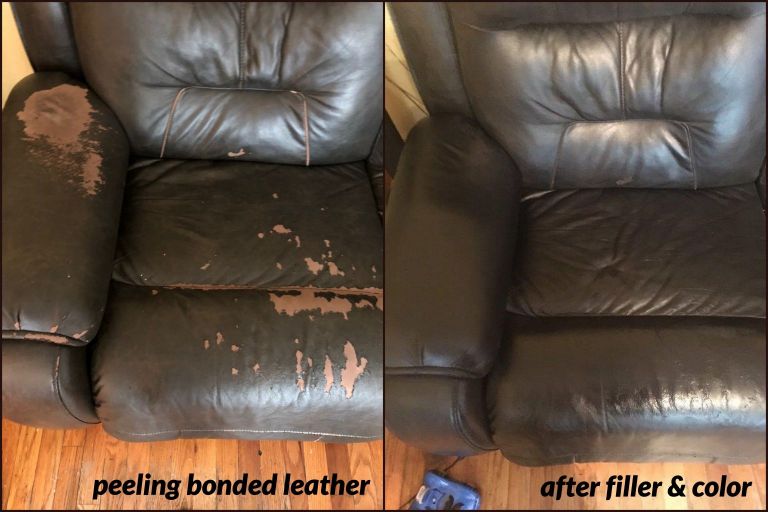 Thanks it came out really good need to reorder more filler.
Hi Thanks For your quick   response in sending products and advice. As promised I am sending before & after pics. Great service!!!
I used your products to restore my couch and loveseat, and they turned out beautifully!! At first I only ordered products to repair a ragged tear on the seat expecting that to go poorly. Instead, it patched up nicely so I ordered primer and dye in Ivory. I'm so amazed at how beautifully this turned out and so are my friends and family. Thank you.   
First pictures are original color that I hated how bright it was... everything worked perfect. Thank you. I love the new darker color!!  Thank you  so much. I couldn't be more happier!!
My chairs turned out awesome!!!! Thanks so much for taking time to talk with me and this wonderful product. I'm hoping to find more projects.
Just wanted to say thank you for a great product and a great result!   I've never done anything like this before and was a little hesitant to give it a try.   Your website is easy to use and guided me thru the process of getting the cleaner, color and shine coat that I needed.

It took me a few minutes to get the right hand motion figured out to get keep the "marbled" color appearance of the leather.   Once I did, the project went smoothly and turned out phenomenal.Thanks again (my girlfriend is ecstatic)!
What a fantastic product! We started out with 2 buttercup Natuzzi aniline sofas that had oil and other stains with sun damage but were still structurally sound. We first did them with your Cognac with a 50% glaze. We realized we wanted them to be darker brown and without the shine. So I ordered the Espresso and 3 coats later we are amazed how well they turned out. Thank you for a fantastic product, it couldn't have been easier to apply. You girls rock...
+3
Hi there! I just finished dyeing our couch and I'm so happy with how it turned out.
Just wanted to say thanks for making a great product.   It took some trial and error, but we love the way the couch looks and feels now.   The cushions even feel firmer.   Thanks a bunch!!
Here are some photos to show you that Rub 'n Restore works beautifully in New Zealand as well as in the USA! We are very happy with the results.

We used a 16oz and 8oz of cognac dye plus an 8oz of clear prep. We did 5 coats of dye, then a 50/50 with clear prep. It was still shinier than the original so we did a 6th coat of dye only to get the satin effect. There is still plenty of dye and clear prep left for any repairs in the future.The 20 year old dark green leather looks ok in photos but was rather tired close up as we brought up 3 kids who jumped all over it for years on end! It was also too dark for our current home decor. The Cognac looks fabulous and fits very well with our decor.

Many thanks for your helpful suggestions as well as the excellent product.
LOVE my "new" cognac leather sofa!
I really appreciated the instructional videos.

The cognac dye covered permanent ink, deep head sweat stains and unknown spills. I used the clear prep between coats, with the dye on some coats and alone for the final coat. I did this inside with pets all around, and the dye was pleasure to work with and made no mess while drying quickly.
My favorite comfy chair is allowed back in the living room after years of being banished to the basement thanks to Rubnrestore Cognac treatment!! Your leather "tonic" is amazing!

After going through your website information and videos I was ready to try it and I am SO impressed!

I ordered the desired color, which arrived SO quickly; prepared the chair, as directed; then I chose to pretreat with the Prep & Finish, which turned out to be REALLY helpful as the now pretty 'raw' leather didnt absorb the dye as quickly and I could 'move' it around easier. Finally I added some Prep&Finish to my dye to give the chair more of a satin finish and Voile!!   I am SO pleased with how easy the whole process was--took about 4hrs start to finish! And beyond thrilled with the finished product!!! THANK YOU LADIES!!
I'm somewhat cheap when it comes to furniture. With a baby and cat (and let be real, I'm really messy), I know our furniture will get a lot of wear and tear, so I take FREE furniture whenever I can. We were given a chair and loveseat in a red leather. It's not my style, so I decided to change it! YALL. I used  Rub 'n Restore, Inc.  Leather Dye and changed it to a beautiful Cognac color. I dyed both pieces of furniture THIS AFTERNOON. It's so easy and pretty much foolproof. I still need to buff and shine the nail heads, but c'mon, the difference is crazy.
I love your product! Check out my before and after. From red to cognac. Easy and quick!