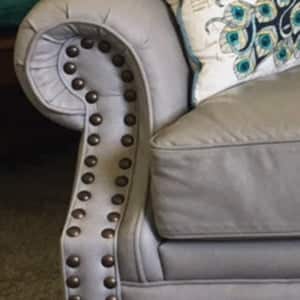 Some folks painstakingly remove and reinstall all the brass tacks from their leather furniture. Alternatively,
Clean the brass tacks by buffing them with superfine (0000) steel wool.

"Cut in" each nail using an angled artist's brush (or cut your sponge on the diagonal to make a precision wedge).

Before Rub 'n Restore® Color begins to dry, follow with another dry brush or damp sponge to remove excess color.

Rub 'n Restore® doesn't stick very well to metal, so when the color is dry on the leather, buff the nails with steel wool again to remove any paint.

Or you can wipe each nail with rubbing alcohol and a q-tip.