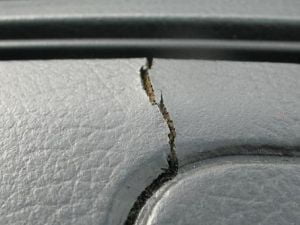 A cracked dashboard indicates a structural issue beyond mere leather or vinyl filler. Furthermore, most dashes are either rigid plastic or vinyl laminated to a thick foam pad. Neither can be sub-patched. A flexible epoxy is the best solution. We recommend SEM Dual-Mix™ Multi-Plastic Repair Material (part# 39847).
Trim/shave away any lifting edges.
Fill the crack a little high with the epoxy and smooth with a card.
Allow to cure for an hour.
Sand evenly with 220 grit wet-or-dry.
Repeat until a level surface is achieved.
Polish with 500 grit wet-or-dry sandpaper.
Texturize. This epoxy does not emboss well in its uncured state, and sanding may remove your efforts. The easiest is to apply a spray grain. Tiny dots of super glue, patted and dispersed with a paper towel, catalyzed with baking soda, and then sanded can also impart texture. See here. Follow with the spray grain for best results.
Let each coat of spray grain dry for at least 10 minutes before applying another. Thin coats are better. Gently polish with 500 grit.
Apply a new color and low-luster clear finish. Spray gun application will get the best result for broad, glaring surfaces like a dashboard.