What's the best way to protect marine vinyl and hot tub covers? Rub 'n Restore® finishes are a permanent sunscreen. Think pigmented Aerospace 303® on steroids. Read on to learn about patching holes or repairing cracks.
This picture from 2004 shows our anti-UV conditioning stain applied to Rebecca's spa cover.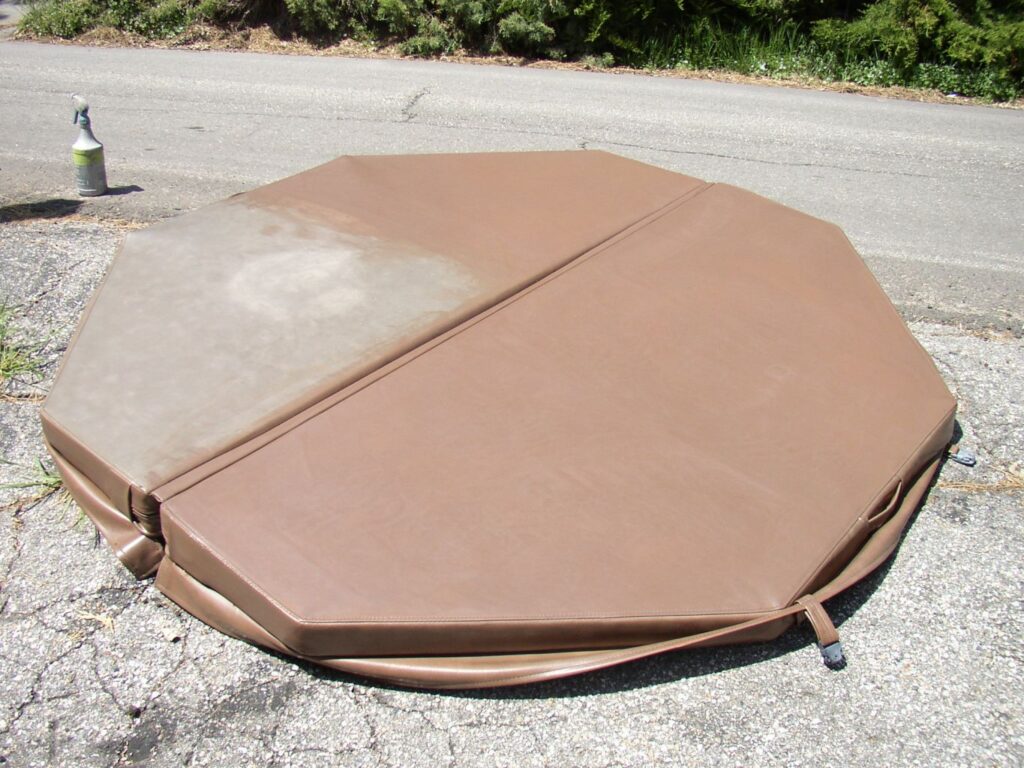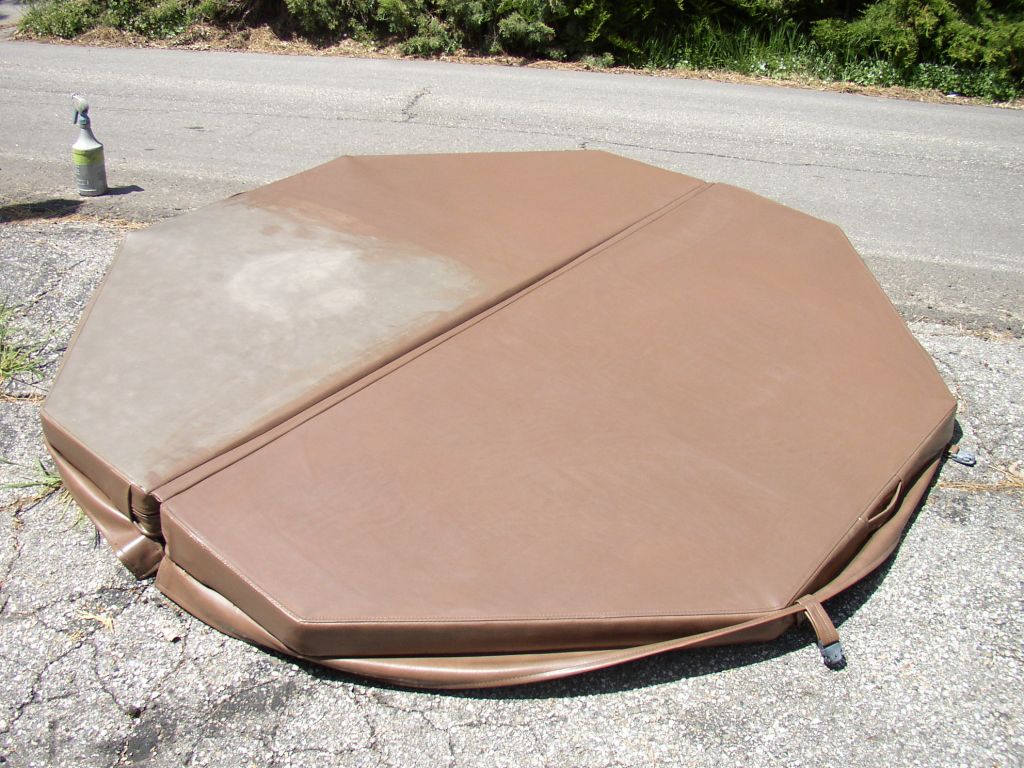 Twelve years later the cover was water-logged. Rebecca found a used cover and swapped the foam inserts. The vinyl on the used cover was years younger, but Rebecca's, despite ten years of blistering Southern California sun and torrential rainstorms, was in better condition thanks to a single application of Rub 'n Restore®, which acts like a permanent pigmented sunscreen. We guarantee that Rub 'n Restore® will double or triple the life of marine vinyl on hot tub covers. Browse our colors here.
However, Rub 'n Restore® can't reverse damage, nor is it a void filler. The sun-rotted marine vinyl pictured above benefited from four coats of our anti-UV finish, but anything worse (like the images below) need a proper vinyl repair compound like our Soft Filler. This, however, is cost prohibitive for large areas of damage.
We've had success resurfacing the vinyl with Liquid Rubber® (diluted with water) or FlexSeal®. Our colored finishes will recolor these coatings if they are not available in the desired shade. This may set you back US$150, but it's still cheaper than replacement.
When you do spring for a new spa cover, be sure to protect it with Rub 'n Restore® before the second summer comes 'round. You'll only have to deal with water-logging, not rotting vinyl.
We've even had customers use it on vinyl siding!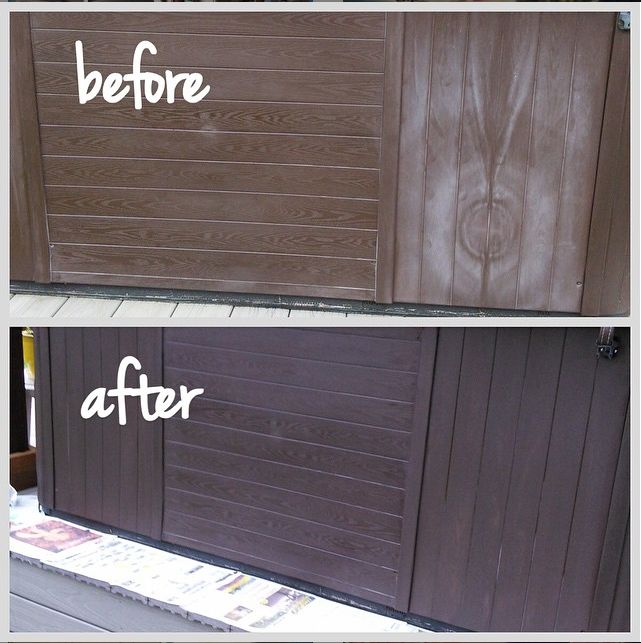 Endeavoring to share this news, I shot a video demonstration on a friend's hot tub cover. CC (mom, business partner, original Vinyl Lady) and the boyfriend concurred that the video was informative but boring, and that it would be much more successful delivered in a swimsuit.
This idea had occurred to me previously, but my pragmatic, professional left brain (along with the feminist commentator) poo-poo'd the idea before it was reasonably entertained.
Scantily clad female bodies used for marketing? I deliberated with independent, empowered female friends and egalitarian men about the politics of oppression. The responses were mixed, erring slightly toward "Might as well."
So I submit to you two videos. The former sexy, silly and superficial; the latter boring but informative. If you're actually going to restore a hot tub cover, please spend 4 minutes on the informative one!
Video contents:
0:10 – Demonstration of a glaze (mix of color and Clear Prep+Finish™) to restore marine vinyl
0:31 – Before and after
0:39 – It's a splash!
Video contents:
0:29 – The hole repaired using this method
0:41 – Cleaning
1:01 – Priming with Clear Prep+Finish™
2:20 – Maintaining moisture level in your sponge
2:42 – Applying anti-UV pigment
3:48 – Before and after pictures